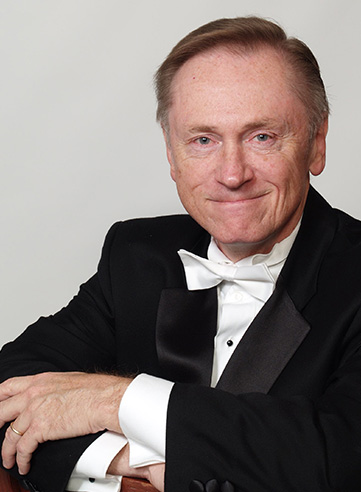 David Pihl, pianist, of Worcester, Massachusetts, studied at Boston University School of Music and received his Master of Music in Piano Performance at the University of Lowell School of Music.  His principal teachers have been Michael Kramer and Anthony di Bonaventura.  He also studied vocal accompaniment in Europe under Ellly Ameling and Rudolf Jansen.  He has performed widely in the Northeast, and, together with Michael Finegold, co-founded the Essex Chamber Music Players.
He has performed as a soloist and as a vocal accompanist in Munich, Germany and in the Czech Republic.   Along with Michael Finegold, Mr. Pihl recorded and performed William Thomas McKinley's Romance #2 "Secrets of the Heart" for flute and piano for Master Musicians Collective (MMC).  His most recent recording on the MMC label was John Mitchell's "Music for Woodwinds Vol.1" with clarinetist Richard Stoltzman.  In reviewing Mr. Pihl's recordings for "Fanfare", Philip Scott called his playing of "Secrets of the Heart" "brilliant" and commented that he was "a rock" on the performance of John Mitchell's "Music for Woodwinds".   Mr. Pihl collaborated again with Richard Stoltzman on a recording of Marie Barker Nelson's "Sonata for Clarinet and Piano" under the Parma Recordings label.  David has also recorded William Thomas McKinley's "Concerto in Two Movements for Piano and Orchestra".  In addition to recording for the MMC label, David has performed and recorded piano solos and art songs of Langston Hughes' poetry by Stephen Peisch.  He recorded the recently released Jonathan Sachs' "Litanies" and "Ghost Horses" for Parma Recordings.  Mr. Pihl has also recently recorded Marc Rossi's "Invitation to Freedom", based on writings of J. Krishnamurti  and imminently will be releasing the premiere recording of "24 Etudes for Piano", by William Thomas McKinley.   The recording of the Etudes also contains Hovanhess'  "Visionary Landscapes".  Mr. Pihl also performed McKinley's "Burning Bright" at Carnegie Hall in May of 2013 with clarinetist Richard Stoltzman and marimba player Mika Stoltzman.
David Pihl has taught music at Worcester State College, Northern Essex Community College and Becker Junior College.  He is the staff accompanist for the Theatre Dept at Holy Cross College and has been the accompanist for the University of Massachusetts – Lowell Chorus and Westford Chorus.